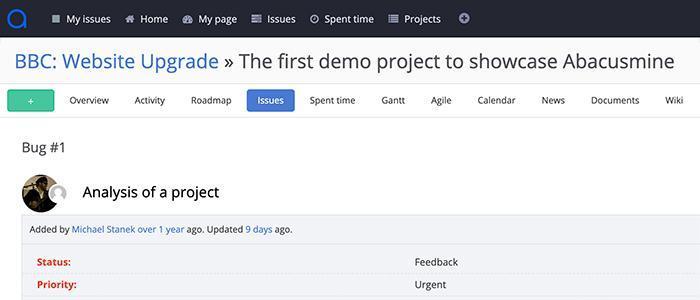 In January 2020, we released the most significant update to our Abacusmine Redmine theme since our initial launch in 2014, and to celebrate, I wanted to give you a rundown of some of the coolest features our theme has to offer.
1. Overview of All Issues & Spent Time
In plain Redmine, viewing your overall "Issues" and "Spent time" is nearly impossible. It's a headache, but we have the remedy! A simple change, but a powerful one, we just added a link for each feature right to the top menu. Our users have been enjoying this feature since the very beginning and it feels really natural.
2. Fixed Top Menu
For project managers who are juggling lots of big projects at once, original Redmine makes it extremely annoying to switch between them, forcing you to constantly scroll all the way to the top. Another simple but elegant solution, we added a fixed top menu feature. Now switching is painless. The vast majority of our users (1400 and counting!) love this, but in case you have a different flow in mind, it's super easy to return to normal. Just remove a single file, and you're done.
3. Project List
Is there anything more essential for a busy PM than your project hierarchy? By adding the expand/collapse functionality to the project list, we made it extremely easy for our users to see the hierarchy whenever they need it. That's not all. Sure, the project description comes in handy, but you may not want to see it all the time. If that's how you feel, we added a cool "Toggle descriptions" feature which shows and hides all descriptions in both the project list and the news & documents sections. Not your style? No problem, this change is optional, too. It's just one line of code to turn on and off, and we've got the instructions clearly laid out in our Readme.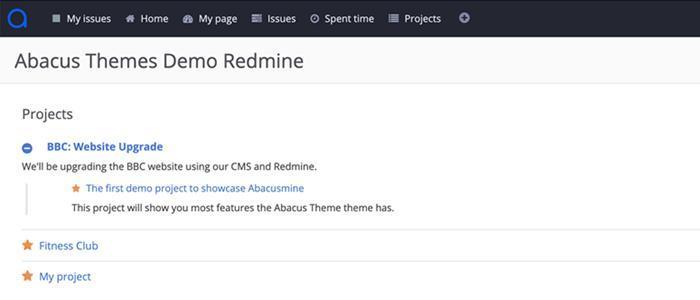 4. Hidden Sidebar
The sidebar is there whether you need it or not. Previously, you had to install a plugin to add the show/hide functionality. Now, all you need is our Abacusmine Redmine theme. We added a simple icon to show/hide the sidebar, so if you have a lot of columns in your issue list, you can see them without scrolling horizontally.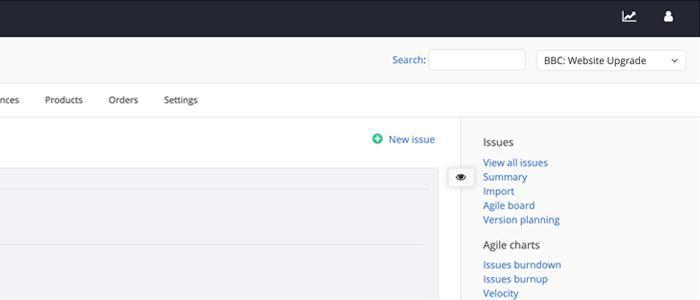 5. Status, Priority, Assignee
When working on a project, it is crucial to tackle tasks with high priority first, and tasks with low priority later. We added visual representation of priorities to the issue list, so now you can clearly see what is important and what is not. Also, when opening, editing or creating a new issue, it's crucial to see the Status, Priority & Assignee fields without looking for them. We added a simple red highlight, so you never have to go searching for your critical information.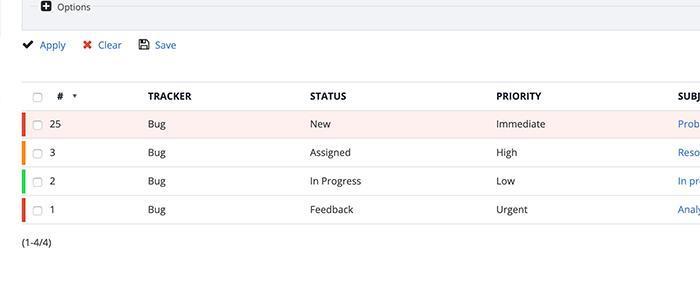 6. Admin Menu Going from Left to Right
This is something that was bugging me a lot when using other themes. When you go to administration, you see the menu on the left, but once you click any item from the admin menu, the menu itself jumps to the right. We just stopped this from happening. Sure, I get why it's behaving like that, but it's just not user friendly. Ultimately, it's way better to just have the menu in the same place all the time. Plus, now you can hide the menu using our "hide sidebar" feature.
7. The Redmine 4.1. Update
At the beginning of this article, I claimed that this is our most important update since we launched. Why is that? We know not to mess with success, so we kept all the classic features our users love, like our beautifully designed history journal and helpful icons. What makes this update so important is all about the look. We brought our Redmine theme into 2020, so you can face a fresh decade of projects with a contemporary style. We aligned all fields in the filters, freshened up the colors, redesigned the sidebar both visually and functionally, and revised spacing of all elements for a more modern look. Plus, we added the possibility to translate "Toggle descriptions" and, most importantly, we went through every single Redmine core page to ensure everything is nicely aligned.
Get the Latest Update
Conclusion
These are 7 of the most important features of our Redmine theme. I personally think is the best Redmine theme out there, and our users agree. However, we don't do it alone. Thanks to the hard work of the Redmine community and development team, taking care of the nuts and bolts of this open source project management system, we can focus on what we do best - on UI. Thank you Redmine.
Did You Like the Article? Share It!