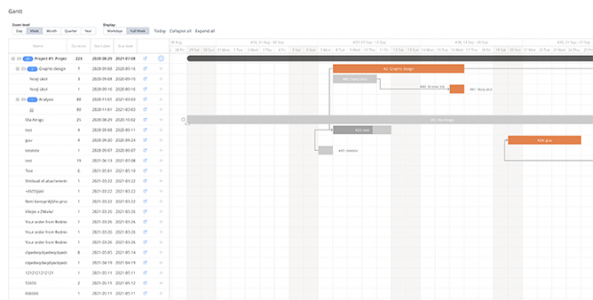 Let's not point fingers, but an on-premise Redmine with a work-effective theme, packed with productivity plugins such as Agile, Gantt, Resource Management, or Helpdesk may prove to be a more than a solid alternative to expensive project management tools. If you are a middle-sized company with up to 100 employees, stay tuned.
There's no doubt Redmine is the best open source project management tool. It has cutting-edge task & time tracking abilities, superb project roles & privileges, and if you pack it with productivity plugins from RedmineUP or RedmineX, and a theme by Abacus Themes, it becomes a beast of software at a very reasonable price.
Plan With Redmine X Gant Plugin
Seeing your project in time is priceless. And with an interactive RedmineX Gantt chart with filtering, priority colors, and a feature to move a project including all its sub-projects & tasks, that's like a dream come true for any project manager. We created styles for Abacusmine, so the best Redmine theme is now fully compatible with this high-end Gantt plugin.
Capacity Management With Redmine X Resource Management
Redmine X Resource Management is an advanced capacity planning & time allocation tool thanks to which you can see which of your employees are overloaded and which are under-utilized. This is inevitably a time of cost-cutting so any tool where you can see how much workload you can put on your employees is going to save you a lot of money. And it's not about employees only - you can manage the capacities of your machines as well. Redmine X Resource Management is fully supported by our Abacusmine theme.
Redmine plugins are not over. On the contrary, they have just begun. Whether you bet on the Redmine veteran RedmineUP or the new kid on the block RedmineX, you are guaranteed to get superb support and cutting-edge quality Redmine plugins.
Want A Remote Redmine Solution? Try RedmineX