Content
Abacus Office - Redmine Theme
freshly updated in 09/2019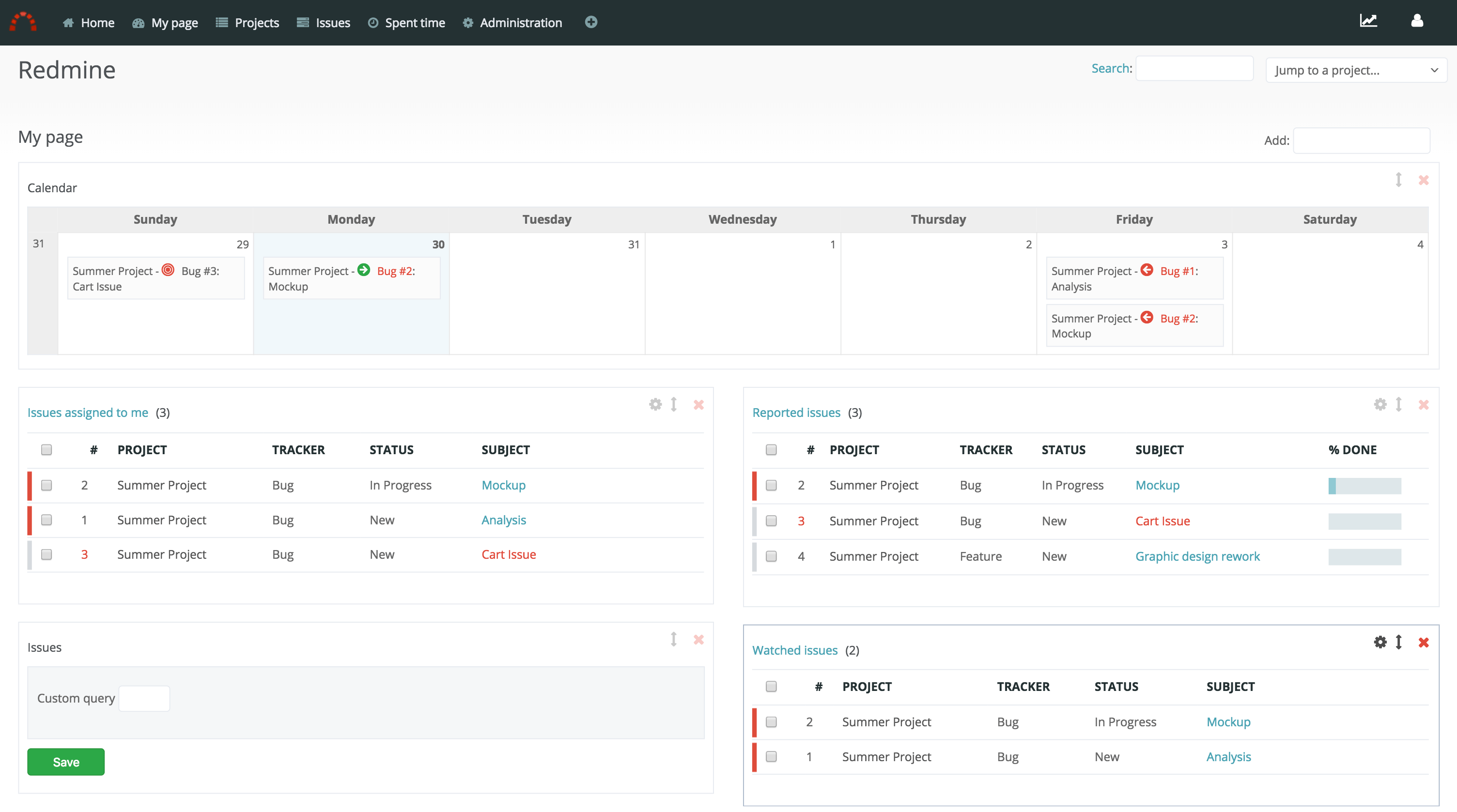 See pricing
Redmine Theme Gallery
2,000+ hours spent on development to make YOU more effective
Plus we are adding new features and plugin styles. This clean and well-organized Redmine theme is focusing on a maximum work effectiveness. You will just love what we did with the issues list, new issue layout and edit issue layout. Moreover, we bring you a brand new Redmine mobile & tablet design.
Money back guarantee
We guarantee you will be happy with our themes as all our customers are. If, however, you are not satisfied for any reason, we will give you a refund.
Supported plugins & Features
RedmineUP (former Redmine CRM) Plugins:
Textile editor
CK Editor
Font Awesome: retina-friendly icons
Unread Issues
Redmine Wiking
Time Tracker
Redmine Issue Templates
Progressive Projects List
Redmine News Notifications
DMSF
Time Logger
Sudo
Redmine Dashboard
Redmine Issue Clipboard
Installation
Installation is super easy. Just unzip the package and copy the theme folder into .../public/themes. Then sign in to Redmine, go to Administration > Settings > Display and select the Abacus Office Blue theme. That's it - 1 minute and you are good to go!
Changelog
Version
Date created
Version notes
1.3.9
12.09. 2019
Sidebar fix, delete icon fix, updated issue view, updated Redmine CRM, added pygmentize code styles, compatible with Redmine 4.0.4.
1.3.8
01.05. 2019
Updated RedmineUP Agile, fixed missing icons, custom field fixed dropdown problem, cleared leftover files, added styles for Redmine Lightbox Plugin 2, compatible with Redmine 4.0.3.
1.3.7
14.02. 2019
Added anchor link highlight, updated RedmineUP Agile, RedmineUP CRM, updated icons, compatible with Redmine 4.0.1.
See older versions
1.3.6
2.01. 2019
Fixed issue comment icons, adjusted RedmineUP Helpdesk, CRM and Agile plugins, adjusted Redmine repository styles, added new styles for Redmine Issue Clipboard plugin, fixed watchers problem, compatible with Redmine 4.0.0.
1.3.5
7.10. 2018
Adjusted new issue attributes, fixed watchers delete icon, hidden "My Issues", fixed admin menu positioning, removed leftover files, added fixed menu, updated RedmineUp Agile, still compatible with Redmine 3.4.6.
1.3.4
17.07. 2018
Adjusted issue attachments, fixed watchers problem, added "Custom Workflow Plugin" icon and some basic styles, fixed login page issues, fixed some "My page" issues, adjusted datepicker styles so it's more user friendly, a few polishes and mobile review. Also, now compatible with Redmine 3.4.6.
1.3.3
22.05. 2018
A few polishes, added styles for a new Wiki link, added styles for the latest RedmineUP Favorite projects (version 2.0.3), a few polishes and 3.4.5 revision. Now compatible with Redmine 3.4.5.
1.3.2
19.03. 2018
This is a major update! New updated styles for DMS (DMSF) plugin, now supporting v. 1.6, fixed radio inputs in administration, administration is now faster, menu loading is faster, the whole mobile view was revised and fixes & updates were made, wiki heading - position of the edit icon is fixed, project jump is adjusted, RedmineUP Agile is updated, a lot of minor adjustments were made. Now compatible with Redmine 3.4.4.
1.3.1
08.01. 2018
This is a fix version. We fixed a few bugs, especially in the icons department. Revised mobile view, polished mobile jump to project, admin area made faster. Redmine 3.4.3.
1.3.0
24.10. 2017
This is a major update. All JS based icons are now CSS based which means the theme is much faster. We also updated Redmine CMS, made it possible to create custom menus, fixed a few bugs, made some spacing polishes and reviewed the whole theme on desktop & mobile. This version is compatible with Redmine 3.4.3.
1.2.9
23.7. 2017
This is a quick bug fix that also supports Redmine 3.4.2.
1.2.8
16.7. 2017
This version supports Redmine 3.4.1. We added styles for the new "jump to project" select, attachments, my page, spent time and many other features.
1.2.6
22.5. 2017
Completely re-written theme.js to make the theme faster, easier translating of the menu items, easier management of the subfolder, added a possibility to show subprojects by default, a few polishes, added styles for Redmine 3.3.3.
1.2.5
2.1. 2017
A few updates of the Wiki page (headings, edit links), adjusted admin menu, added a few overrides to make adjustments of the theme easier, Redmine 3.3.1. compatible.
1.2.4
24.9. 2016
Updated styles for the Redmine CRM plugin, added styles for Easy Gantt PRO, plugin added styles for Workflow Hidden Fields plugin, a few bug fixes & polishes, Redmine 3.3.0. compatible
1.2.3
14.7. 2016
Updated styles for the Time Tracker plugin, updated Easy Gantt plugin, upgraded Font Awesome to version 4.6.3, Ck editor style update, added styles for Dashboard Plugin, added styles for Redmine 3.3.0 and a few bug fixes.
1.2.2
24.5. 2016
We made a lot of polishes: added mobile search icon, documents&news description fix, fixed news preview, changed cursor on submit buttons, journal upgrade, now compatible with the latest version of Easy Gantt plugin and Redmine 3.2.1.
1.2.1
17.3. 2016
We made a few fixes: fixed watchers delete icon, status select made bigger to support Russian language better, fixed archived projects color, "Project" column is now visible at My Page.
1.2.0
5.3. 2016
We added a few fixes plus styles for Time Logger plugin and Sudo plugin. We have also speeded up menu loading. Moreover, we changed the numbering of our versions so there will be more minor versions.
1.1.3
3.1. 2016
We added a few fixes for Redmine 3.2.0.
1.1.2
21.12. 2015
We added styles for DMSF plugin (Document management system), Easy Gantt plugin, added collapsible subprojects on project list view, made a lot of polishes and some bug fixes plus we made our theme compatible with Redmine 3.2.0 including the new mobile menu. Therefore, our original mobile menu is not used and instead the new Redmine 3.2 mobile menu with customized look is utilized.
1.1.1
5.10. 2015
this is a major update. Added styles for RedmineCRM: People plugin, Q&A plugin, Favorite Projects plugin, CMS plugin, Zenedit plugin, Products, Finance and polished Invoices. Added "toggle description" feature for project list, documents and news. Added "hide sidebar" feature that is compatible with the Hide Sidebar plugin. Added full-screen support for the RedmineCRM Agile plugin, accelerated javascript loading, hidden .splitcontentleft / right and .contextual when there is no content. The theme is completely re-written using LESS CSS and JQuery, all desktop and mobile views are reviewed and polished to the max, there are improvements in typography, some minor bugs are fixed including Redmine Git Hosting buttons. The theme is simply more awesome than ever and Redmine 3.1.1 compatible!
1.1.0
15.6. 2015
added styles for Redmine Helpdesk plugin, Redmine Checklist plugin, Redmine News Notifications plugin, added a "fixed top menu" option, changed styles for issue priorities so it is 100% clear what priority you are looking at, added a "hide Home" option, improved display of sub-tasks, a few bug fixes and polishes
1.0.9
17.5. 2015
issue changesets (revisions) take up 50% of the area and history takes up the other 50%. When there are no issue changesets, the history take up 100% of the space. Added a condition to the main menu (app menu) - when there is no content, the menu does not show up. Added style for Redmine Agile plugin (board, charts, swim lanes). Checked for Redmine 3.0.3.
1.0.8
5.5. 2015
added javascript support for IE8 so Font Awesome icons and other theme.js changes apply to Internet Explorer. Added toggle button for issue changesets on the issue detail.
1.0.7
26.4. 2015
checked for Redmine 3.0.1, added Font Awesome 4.3 support, added Redmine CRM Pro support (contacts, deals, invoices, expenses), and a few polishes.
1.0.6
18.02.2015
polished flash notices, warnings etc., added support for Redmine Wiking, added default icon to the top menu so all items will have icons, a few general polishes
1.0.5
03.02.2015
added partial support for Redmine Git Hosting Plugin (style fixes), Unread Issues Plugin styles, few mobile polishes, menu limited to 6 items and the rest is under "More" - for people who have a lot of plugins installed, added menu icons (Finance, Products, Orders, Archived repositories), added documents and wiki to mobile view, added support for Redmine 2.6.1 and a few calendar fixes were made
1.0.4
14.01.2015
added support for Time Tracker plugin - a convenient plugin for automated time tracking.
1.0.3
05.01.2015
added Font Awesome so the majority of icons are vector based and thus Retina friendly (also suitable for high-resolution displays). Also, we adjusted the "Edit Issue" page so it resembles the "New Issue" page and it is now custom fields friendly.
1.0.2
24.11. 2014
added Redmine CRM Lite support, enhanced top menu with "More" icon, older Redmine version support (2.0.4), a few polishes and bug fixes
1.0.1
11.11. 2014
custom fields now visible, added default icon to the main menu, a few minor bug fixes, compatible with Redmine 2.6.0
1.0.0
01.10. 2014
version launch
Settings
The Redmine theme has a few settings that are described in the readme file.
Compatibility
Redmine version 2.0.4 - 4.0.4 (Redmine 3.2+ has different mobile menu)








Buy now