No. 1 Redmine Mobile and Custom Themes
work faster, be effective and save money thanks to a clean app design that comes with our premium Redmine theme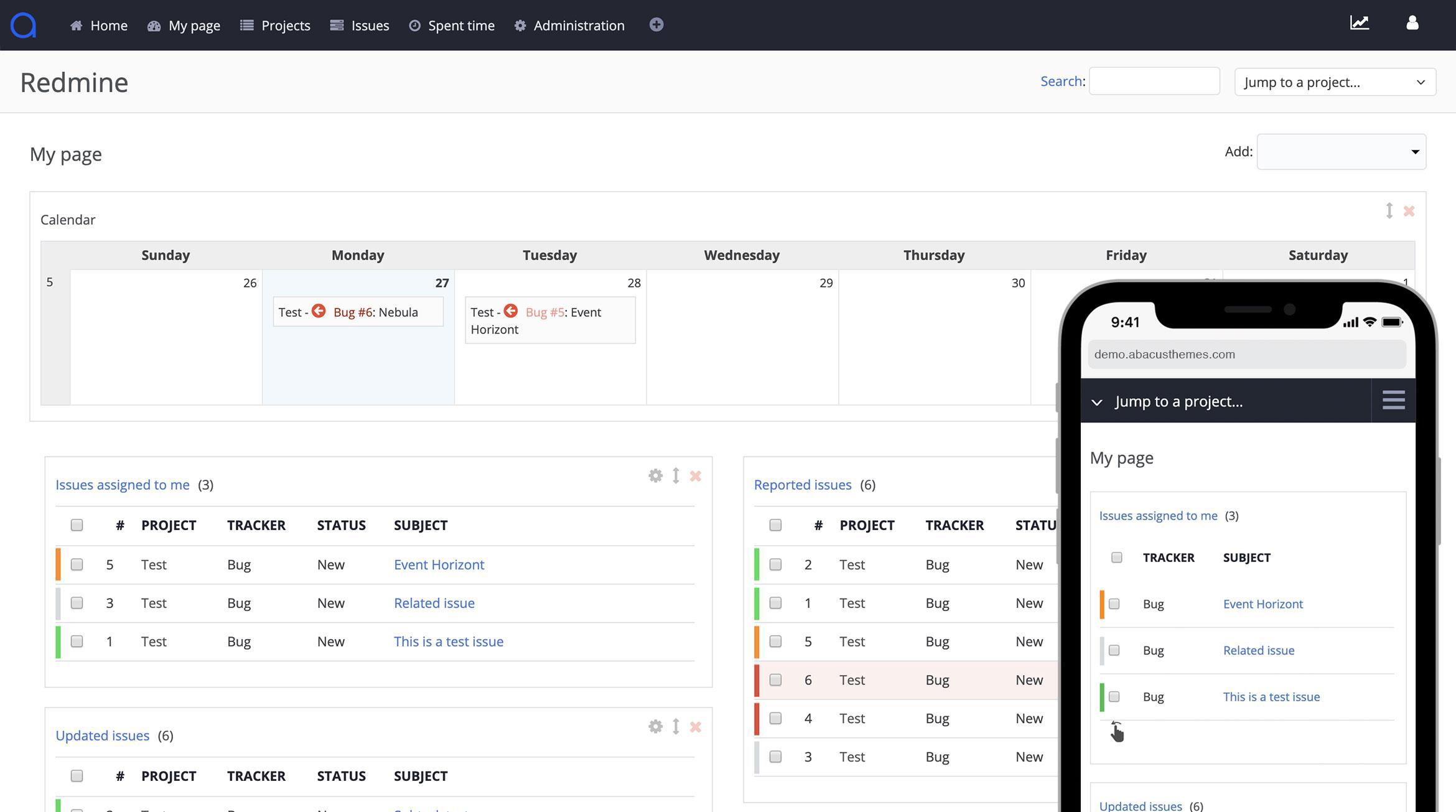 Save Up To 20% of Time Using Our Work-effective Redmine Theme
Time is money
average freelance salary
20 €

/ hour

time saved with our theme
12 mins

/ day

money gained using our theme
80 €

/ month
Your investment comes back in just 5 days and from this time on, you are earning money. Just count how much time you save within a year! Do not miss this opportunity and join hundreds of our happy clients.
Abacus Redmine Theme: Truly a New Redmine Experience
Enhanced user interface
We created a clean user interface to make your work effective: added retina-friendly menu icons, "new issue" and "edit issue" buttons, simplified priorities, cleared issue tables and calendar, and much more.
Super easy installation
In just 1 minute, you can have the theme up and running. Just upload it on your server, choose it in the administration and save it. That's it! 1 minute and you can start being effective.
Fully mobile Redmine theme
This Redmine theme is now fully mobile, thus available on any device - desktop, tablet or mobile. We paid strong attention to mobile views so using our Redmine theme is flawless.
Compatible with:
See more...
Redmine Theme News
Redmine 3.3.1 Compatible

03. 01. 2017

Redmine 3.3 Compatible

17. 07. 2016

Redmine 3.3.0

27. 06. 2016

We are currently working on updating our theme to support Redmine 3.3.0. It will be ready in the middle of June.

Redmine 3.2.1 compatible

24. 05. 2016

Abacus Office is now compatible with Redmine 3.2.1.

New Screenshots

03. 01. 2016

Redmine 3.2 Compatible

23. 12. 2015

We are proud to announce that Abacus Office is now compatible with Redmine 3.2. Screenshots coming soon.

Redmine 3.2

09. 12. 2015

The Redmine 3.2 update is a huge step. Right now we are adjusting our theme to make it compatible with Redmine 3.2.